Australia Visitors
Ms. Cassandra Mao, Board Director, Youth without Borders, and Mr. Alex Splitt, Senior Policy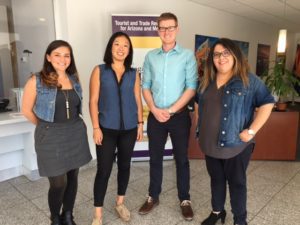 Officer, Aboriginal Housing Victoria were visitors to SAZCIV from September 21 – 26, 2017.  The people they met with went over and above to make sure the visit accomplished all their goals.
Special thanks to Alma Peralta from the Tucson Hispanic Chamber of Commerce and her associate Stephanie for meeting with the visitors at the Hispanic Chamber in Nogales.  The visitors also had the opportunity to meet with the Nogales/Santa Cruz Chamber of Commerce and Olivia Ainza-Kramer, CEO and President.  The border fence is always of interest to the visitors so a walk down to the border was arranged.
The Pascua Yaqui made their stay interesting by having the Chief of Police meet with them and then invite them to a celebration on Saturday.
On Sunday the Tohono O'odham took them to Sells to see the primary district for the tribe.  They also got to see the border crossing for the TO.
Home hosting is always a treat for the visitors and Weston Brown not only hosted them at Pima Community College International Division as part of their scheduled program but then had them to his home for home hosting!
Our friend, Michael Ford, is now with Primavera and did an outstanding job of meeting with the visitors and then joined them for lunch.
A special thank you to all that were involved in making this program a success.
Law Enforcement from India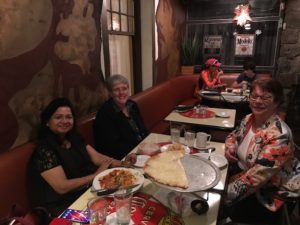 The Tucson Police Department opened their doors to Swati Lakra, Additional Commissioner of Police, Crimes and Special Investigations, for 2 and ½ days of job shadowing.  She had the opportunity to meet with TPD's Executive Leadership Team, meet with the Sex Offender Registration Tracking Unit, a visit to the evidence storage facility, a visit to Southern Arizona Children's Advocacy Center.  If that wasn't enough she also visited with the Domestic Violence Investigations team, Child Abuse Investigations, the Human Trafficking Investigations and Adult Sexual Assault Investigations divisions.
She had a meeting with Chief Magnus and Assistant Chief Carla Johnson, the Financial Crimes division and a wonderful dinner with Chief Johnson and Pat Watson, Executive Director for SAZCIV.
As you can see, the visitors are VERY busy when they are in southern Arizona.  Each group has special needs as far as programming is concerned and it is our job, as SAZCIV, to do our very best to meet those needs.
Giving the people of Southern Arizona and the visitors an opportunity to get to know each other, share information and build friendships is what the job of SAZCIV is all about.